Nowadays, solo traveling is very popular in India and mostly young people prefer solo traveling. In order to connect with nature and spend some time with ourselves, traveling solo is a good option. Solo traveling in India for the first time can be a little frightening and enormous for the people.
So, if you are someone who's planning to go on a solo traveling for the first time in India for the first time in India, there are certain things you need to keep in mind before planning your tour. Here are some tips you should remember in your journey. 
Things You Must Keep In Mind Before Traveling Solo:
Do your research:
It's very important to do your homework well before going on a solo trip. One step wrong may lead you to big chaos. From its climatic conditions and sightseeing options to its culture, food, accommodation, and transportation, you should be well-researched about every small detail.
Recently i have written a complete blog about 6 tips for travel alone. So before you plan your trip make sure you can check out this blog post so you can get a better idea to create Solo travelling plan in India.
Talk to a travel guide or an agency, they can help you to choose best places for solo travel in India. Moreover, you can also maintain a journal of your own to have more clarity of your thoughts and to keep it more organized.
Fix your budget-
As liberating as it may sound, it's very important to fix a budget and then only go ahead with your plan. It's very crucial to distribute your money properly to every field from hotels to food to transportation to other spending. If you need comfort then I recomended you to chose luxury resort.
Now might be you have question on your mind how to find best Luxury resort?
The answer is very simple. Simply go to Google & search Luxury Resort In your favourite area, like in my choice I am search Luxury Resort In West Bengal. After that you can many Luxury hotels are come front of your Laptop or Mobile screen. Choose one which you love most according your budget.
You may compromise on your hotels and might spend a little more on the delicacies or vice versa as per your requirement.
By the way, if you re some one who is looking luxury resort in Jharkhand then we recomended you to visit Stoneberry. Bellow we share with you our rooms rates & facilities.
Book Your Hotels And Tickets In Advance:
For Solo traveling in India always try to book your hotels and tickets in advance to grab them at the best deals and best prices. The more you delay, there is a chance of a price increase which may cause a problem in your estimated budget. So you need to be smart enough while searching for hotels and tickets and also try to get some good online offers so that you can reduce the amount which you can spend on the tour.
Carry Important Documents-
If you want to do budget trip in India then first of all your documents represent your identity. So it is very important to carry original and photocopies of important documents like your Aadhar card, PAN card, Voter card, and other government IDs. These documents may come in handy in case of any identification verification procedure.
Inform your elders-
One major factor that many solo-trip goers go wrong is not informing your parents, your guardian, or someone older than you before going out for your trip. Convincing them may be a big deal but be fearless and try to make them understand why it is necessary for you to go and assure them about your safety. In case you are in any trouble, they will be the ones who will be able to help you get out of the chaos. 
Now that you are ready to go for the adventure of a lifetime, let's have a glimpse at some of the places you can keep on your bucket list while planning your solo trip to India.
Places you can visit for your first solo travel in India
Goa–
If you want to relax, have fun, chill and just have a me-time, there's no better place than the beach paradise of India, Goa. It is undoubtedly one of the safest and most exciting places to visit for a solo trip. Watch the scenic sunsets from the various beaches, enjoy the best of music and nightlife, gorge on the delicious local Goan cuisine, and explore various water sports and other offbeat destinations
Manali-
When you think about Manali, you are instantly reminded of the movie Yeh Jawani Hai Deewani. Although they were a bunch of known people, I just wondered how much more exciting it would be to explore the majestic Himalayan peaks alone or maybe with a group of strangers.
Sounds exciting right? Surrounded by high peaks in the beautiful green Beas valley, Manali is a year-round holiday destination. Soak in the fresh, salubrious mountain air on arrival and get ready for some unforgettable adventures on your holiday. 
Rajasthan-
If you are someone who wants to explore the rich culture and heritage of India, there's no better place than Rajasthan. Being the land of kings, Rajasthan sparkles like a jewel on the alluring golden sand.
It serves you with a big buffet of varied items ranging from forts and palaces to artifacts and fairs, making it difficult for you to choose the best among all of them.
Darjeeling-
Darjeeling, the quaint hill station located in the northern part of West Bengal is undoubtedly one of the most favorite destinations of all time. Also known as the Queen of Hills, it's not only budget-friendly but is surrounded by rolling green tea plantations along with the majestic Kanchenjunga ranges towering above the skyline that is sure to take your breath away.
Kerala-
Popularly called "God's Own Country" due to its rich vegetation, backwaters, beaches, biological diversity, and lifestyle, Kerala is one of the safest places for all solo-trip goers. The surrounding hills, rich waterfalls, and palm-studded beaches offer a perfect option for all travelers to come closer to mother nature.
Conclusion:
Now that you are cautious and know your dream destination, the last step is to ease yourself out. Go out, trust your own gut feelings and make yourself your best friend and have the most gala time of your life. Enjoy buddy!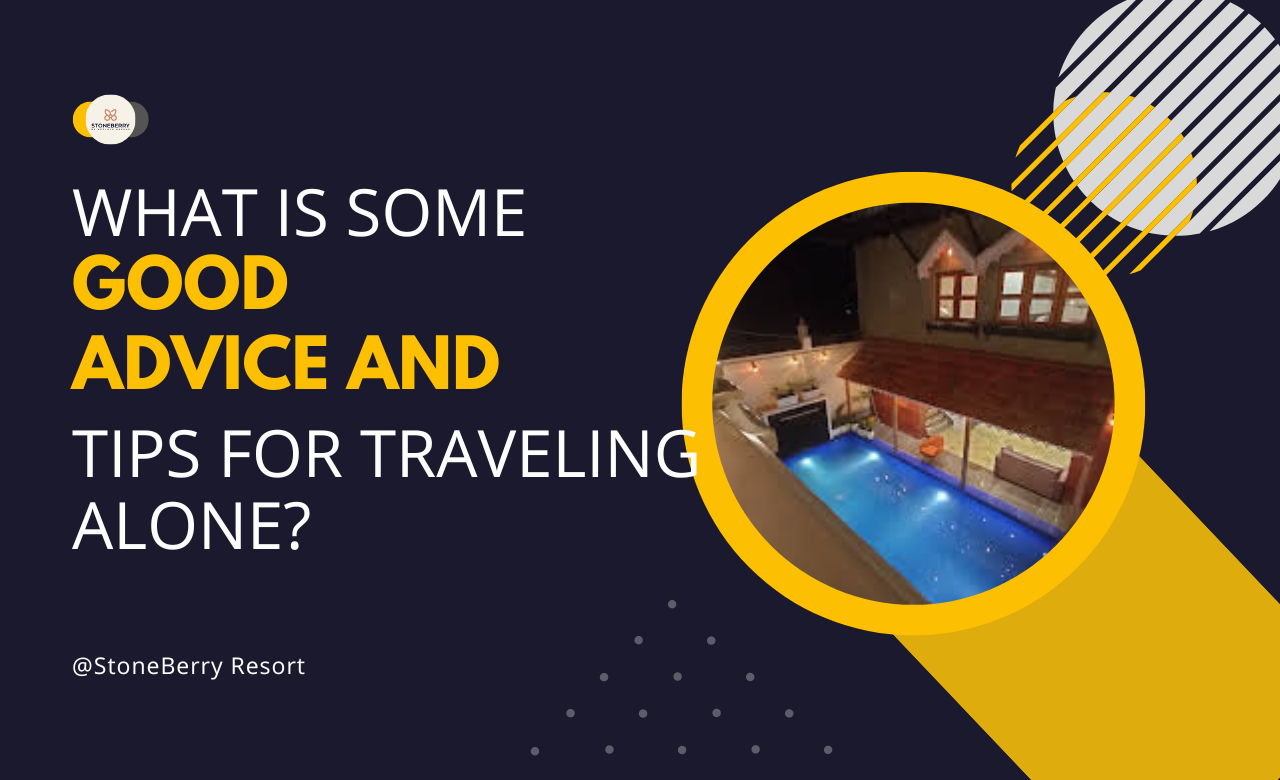 Have you ever considered traveling by yourself? There have many benefits to a traveling alone. Today in this post I am sharing with you 6 Tips For Traveling alone in India. The benefits you get as a solo traveller is you can visit many places. On this point I want to recomend you please check out my Top 10 Best Places For Solo Travel In India post, so you can get a clear picture about Travelling alone in India.
Top 10 Best Places For Solo Travel In India:
One thing keep on your mind, First you choose the places where you want to visit and then don't forget to book hotels around that tourist places. If you are choose any places near Jharkhand the we have one of the best Luxury resort in Jharkhand that is affordable and suitable for Solo travellers.
Below I am share Stoneberry Rooms & Packages:
Additionally, you have more alone time to take in lovely surroundings, tranquil dinners, and additional time at the sights or activities that most interest you. It's common to experience some anxiety or discomfort before embarking on a solo journey, especially if you're considering visiting a foreign location where you may have no friends or family.
Fortunately, there are some wise strategies for being safe and comfortable when traveling alone. And in this article we will be sharing 6 such advice that will make you sure you have an amazing trip that you can relish for the rest of your life.
Below We Share 6 tips For Traveling Alone:
1. Plan in Advance
It is advised that you have everything ready before embarking on an adventure when traveling alone. The plan should not be very specific, but the traveler should be able to understand the broad strokes of it all (to miss the pits along the way). A necessary component of the preparations is making your reservations for the trip in advance. So, that you don't encounter filled seats or no availability anywhere which will ruin your experience. A little planning always goes a long way.
2. Share Your Travel Plans With Your Family and Friends:
Tell a relative or friend back home about your travel plans, hotel reservations, and any activities you have in store. Additionally, before going on any solo trips, inform the hotel personnel of your destination and expected return time.
Check with your smartphone service provider to find out what skills you'll need at your travel destination in order to stay in touch with friends, family, or the office while you're on your own, even sporadically. When you have Wi-Fi connectivity, you can also check in by email or social media.
3. Pack Light:
Packing lightly is one of the most crucial considerations when organizing a solo vacation across India. In such a large country, the distances can occasionally be fairly great and without an intermediate mode of transportation. Therefore, it is best to pack your luggage in a way that you can carry it easily, taking into consideration what you can carry yourself (preferably a rucksack).
4. Make An Emergency Plan:
Ideally, when traveling, you won't experience a medical emergency, an accident, or a robbery. But it's wise to be prepared for the worst and know who to call. Before you travel, do some research on the hospitals, police stations, and other emergency facilities in the area. Learn some emergency words in the language of the country you're visiting so you can call for assistance if necessary.
Before you travel, check with your doctor or a travel clinic to be sure you have the necessary immunizations. When packing, remember to include a supply of any prescription medications you might require, face masks, hand sanitizer, and gear to ward off insects that could spread disease, such as mosquitoes. It is advisable to conduct research on the quality of the drinking water, fresh vegetables, and restaurants at your destinations.
5. Make Friends:
Most of the people you will meet won't try to steal your money, instead the majority would be really friendly and make your faith in humanity even stronger. And you know what solo traveling can get boring if you have no human connection to share your stories with. That's why it's necessary to drop the veils of social anxiety and start embracing your human side and start talking to more people. Make jokes, banter and have fun with the people around you. Because you know they won't think it's weird to talk with a stranger and you'll have really good memories from the trip.
6. Take A Lot Of Pictures:
It's simpler than ever to shoot images of every place you go thanks to smartphones and almost universally available free wi-fi connections. Your friends and family can virtually experience every minute of your journey in real-time by viewing your photos as soon as you post them on social media. Although a selfie stick is optional, you can use one. We often feel jealous of those who get to go to new areas.
Conclusion:
We can clearly conclude that going on a solo trip is a life changing experience for anyone and if you're reading this, you should definitely go on one. But be sure to follow these 6 tips to stay safe and comfortable while having ultimate fun along the way. And return with a lifetime of memories.
Sometimes, we all want to spend a good time with ourselves. Because of this, Solo travel is highly recommended. Sol travel helps us to connect with strangers, their cultures, and places more. To get more adventurous experiences about the place, solo travel is highly important to explore new Best Places For Solo Travel in India.   
In this blog, we are going to discuss the top 10 Best Places For Solo Travel in India. Apart from this, it will also showcase the budget and perfect time for traveling to various places in India. Moreover, this blog will help you to make a proper budget plan for your solo trip. 
Check out below top 10 places for solo trips in India:
1. Hampi
Location: Karnataka
About the place: This place is located in Karnataka, and more than 500 monuments are here. The political, and royal center of the Vijayanagara empire and its temples are the other attractions of this place. The Tungabhadra river enhances the beauty of this place with coracle boats and stone hills. If you are planning to visit this place, you must explore these mentioned spots and this place is best for a short day's solo trip.
Best time to visit: October to March
2. Kasol
Location: Himachal Pradesh
About the place: are you a mountain lover? Do you have any fascination with trekking? If yes, you must include this place in your wishlist. This is a small village and it is situated on the bank of the Parvati river. River rafting is another important attraction of this place. If you have a plan to visit this place, you must explore the rafting activity.
Best time to visit: October to June
3. Varkala
Location: Kerala
About the place: This place is very peaceful and the best place for solo travelers in India. Ponnumthuruthu Island, Papanasam Beach, Kapil Lake, and Janardhan Swami temple are the main attractions of this place. Ayurvedic spas are also well-known in this place. So if you are planning to solo travel, you must consider the spots of this place.
Best time to visit: The entire year
4. Rishikesh
Location: Uttarakhand
About the place: This place is located in the foothills of the Himalayas along with Ganga and Chandrabhaga rivers coming together. Rishikesh is also famous for its adventurous activities such as river rafting. Moreover, this place is also known for yoga and meditation. Because of this, it is beneficial for getting mental peace. If you are a solo traveler, this place should be at the top of your travel list. You can visit this place without spending so much money on it.
Best time to travel: The entire year
5. Udaipur
Location: Rajasthan
About the place: This place is surrounded by the Aravalli hills in all directions and it is also known as the city of lakes. The main attraction of this place is its natural beauty. Apart from this the architecture of this place mainly attracts tourists. If you are a solo traveler or prefer solo travel, you should consider this place to visit.
Best time to travel: October to March
6. Shillong
Location: Meghalaya
About the place: Shillong is a beautiful city surrounded by Pyne trees. The suitable climate of this place is the main attraction for visitors. Because of the beauty of nature, this place is known as Scotland of the East. If you are a nature lover and have an attraction for waterfalls, this place is appropriate for you. This place is considered as a budget-friendly solo traveling destination in India. 
Best time to travel: September to May
7. Manali
Location: Himachal Pradesh
About the place: Manali is usually counted as the most attractive place in India. It is the starting point of Spiti and Leh. Most importantly, the pine forest in this place makes this place like heaven. So if you are a nature lover, you must consider this place to explore more.
Best time to travel: October to June
8. Deoghar
Location: Jharkhand
About the place: This place is famous for Baba Jyotirlinga Nath temple and this place is also surrounded by greenery. When you visit this place, you should consider Stoneberry resort because we provide you with all the necessary facilities at an affordable budget package to make your solo tour amazing.
The best time to travel: is October to March.
9. Kovalam
Location: Kerala
About the place:   Kovalam is located in Kerala and is 13 km away from Thiruvananthapuram. The three adjacent crescents are the main attraction of this place. The tidal beaches also gather attention from travelers and various types of ayurvedic massage centers are available here. If you have plans to explore this place, you should consider these things because it is considered as the best place for solo travelers in India.  
Best time to travel: September to March
10. Varanasi
Location: Uttarakhand
About the place: Varanasi is the holiest city in India and is also famous for the Benarasi silk. Moreover, the Ghats and temples are the main attraction of this place. If you want to see the special "Ganga aarti", you must visit this place. This is the budget friendly place for solo traveling. 
Best time to travel: October to March
What are the best activities in India for solo travelers?:
Solo travel is very trending nowadays because it helps people connect with themselves and improve their mental health. As we know that every place is famous for its famous activities. So, when you are traveling to the above-mentioned best places in India for solo traveling, you must try all the available and famous activities of the chosen place.  
| | |
| --- | --- |
| Places | Famous activity |
| Hampi | Short boat ride |
| Kasol | Kheerganga trek, riverside campaigning |
| Varkala | Ayurvedic spa and massages |
| Rishikesh | River Rafting, Bungee jumping |
| Udaipur | A boat ride |
| Shillong | River Canyoning |
| Manali | Camping in Solang Valley, Trekking |
| Deoghar | Explore the famous waterfalls |
| Kovalam | Thrilling water sports activity |
| Varanasi | Explore the Kassi Bhiswanath temple and Ghats |
Conclusion
This concludes the top 10 best places in India for solo travelers and their famous activities. Solo traveling is important for every person because it helps the people to connect with themselves. So, if you have plans for solo traveling, you must visit these places and try all the famous and available activities.
Now is your turn!
Let me know in the comment section, in this 10 Best Places For Solo Travel In India which place you liked most?



Can a girl travel alone in India?
Is solo travel lonely?
-No, you can definitely travel alone without being lonely
Can I travel solo in India?
Is Rishikesh good for solo trips?
-Yes, many travelers visit this place alone.