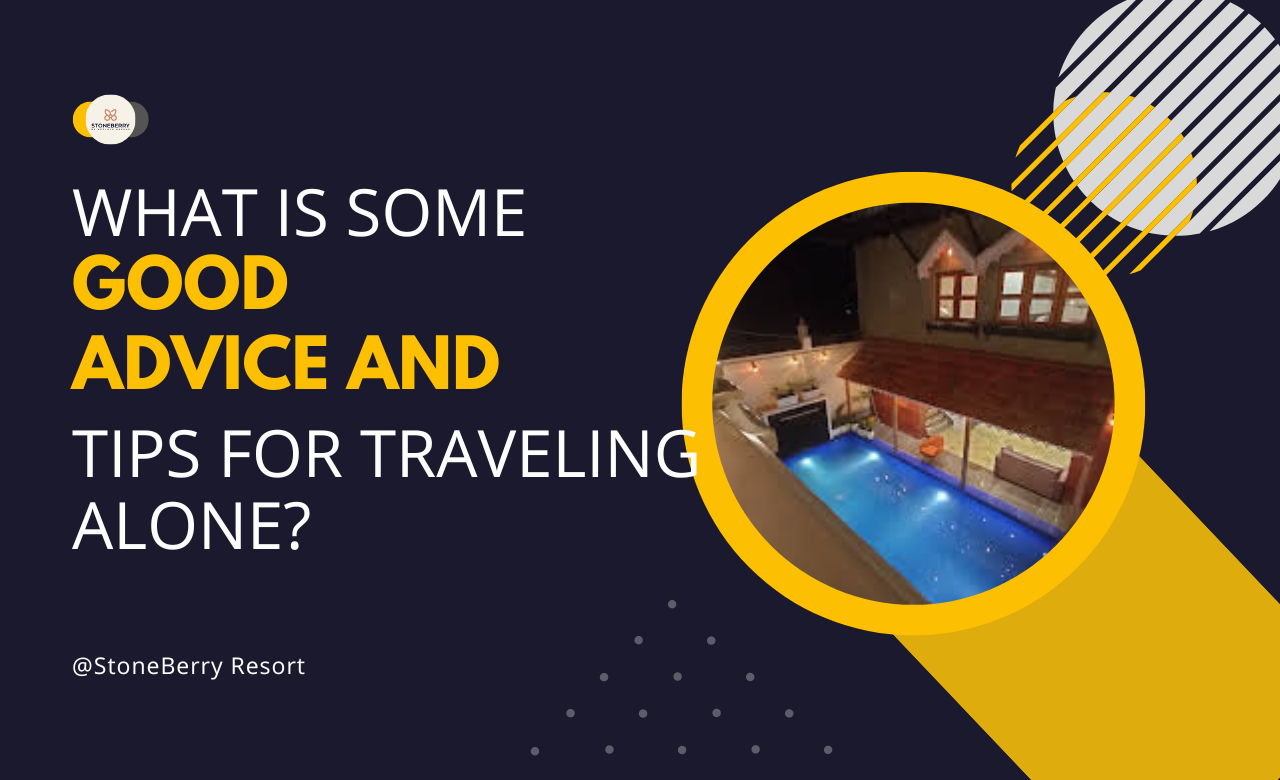 Have you ever considered traveling by yourself? There have many benefits to a traveling alone. Today in this post I am sharing with you 6 Tips For Traveling alone in India. The benefits you get as a solo traveller is you can visit many places. On this point I want to recomend you please check out my Top 10 Best Places For Solo Travel In India post, so you can get a clear picture about Travelling alone in India.
Top 10 Best Places For Solo Travel In India:
One thing keep on your mind, First you choose the places where you want to visit and then don't forget to book hotels around that tourist places. If you are choose any places near Jharkhand the we have one of the best Luxury resort in Jharkhand that is affordable and suitable for Solo travellers.
Below I am share Stoneberry Rooms & Packages:
Additionally, you have more alone time to take in lovely surroundings, tranquil dinners, and additional time at the sights or activities that most interest you. It's common to experience some anxiety or discomfort before embarking on a solo journey, especially if you're considering visiting a foreign location where you may have no friends or family.
Fortunately, there are some wise strategies for being safe and comfortable when traveling alone. And in this article we will be sharing 6 such advice that will make you sure you have an amazing trip that you can relish for the rest of your life.
Below We Share 6 tips For Traveling Alone:
1. Plan in Advance
It is advised that you have everything ready before embarking on an adventure when traveling alone. The plan should not be very specific, but the traveler should be able to understand the broad strokes of it all (to miss the pits along the way). A necessary component of the preparations is making your reservations for the trip in advance. So, that you don't encounter filled seats or no availability anywhere which will ruin your experience. A little planning always goes a long way.
2. Share Your Travel Plans With Your Family and Friends:
Tell a relative or friend back home about your travel plans, hotel reservations, and any activities you have in store. Additionally, before going on any solo trips, inform the hotel personnel of your destination and expected return time.
Check with your smartphone service provider to find out what skills you'll need at your travel destination in order to stay in touch with friends, family, or the office while you're on your own, even sporadically. When you have Wi-Fi connectivity, you can also check in by email or social media.
3. Pack Light:
Packing lightly is one of the most crucial considerations when organizing a solo vacation across India. In such a large country, the distances can occasionally be fairly great and without an intermediate mode of transportation. Therefore, it is best to pack your luggage in a way that you can carry it easily, taking into consideration what you can carry yourself (preferably a rucksack).
4. Make An Emergency Plan:
Ideally, when traveling, you won't experience a medical emergency, an accident, or a robbery. But it's wise to be prepared for the worst and know who to call. Before you travel, do some research on the hospitals, police stations, and other emergency facilities in the area. Learn some emergency words in the language of the country you're visiting so you can call for assistance if necessary.
Before you travel, check with your doctor or a travel clinic to be sure you have the necessary immunizations. When packing, remember to include a supply of any prescription medications you might require, face masks, hand sanitizer, and gear to ward off insects that could spread disease, such as mosquitoes. It is advisable to conduct research on the quality of the drinking water, fresh vegetables, and restaurants at your destinations.
5. Make Friends:
Most of the people you will meet won't try to steal your money, instead the majority would be really friendly and make your faith in humanity even stronger. And you know what solo traveling can get boring if you have no human connection to share your stories with. That's why it's necessary to drop the veils of social anxiety and start embracing your human side and start talking to more people. Make jokes, banter and have fun with the people around you. Because you know they won't think it's weird to talk with a stranger and you'll have really good memories from the trip.
6. Take A Lot Of Pictures:
It's simpler than ever to shoot images of every place you go thanks to smartphones and almost universally available free wi-fi connections. Your friends and family can virtually experience every minute of your journey in real-time by viewing your photos as soon as you post them on social media. Although a selfie stick is optional, you can use one. We often feel jealous of those who get to go to new areas.
Conclusion:
We can clearly conclude that going on a solo trip is a life changing experience for anyone and if you're reading this, you should definitely go on one. But be sure to follow these 6 tips to stay safe and comfortable while having ultimate fun along the way. And return with a lifetime of memories.