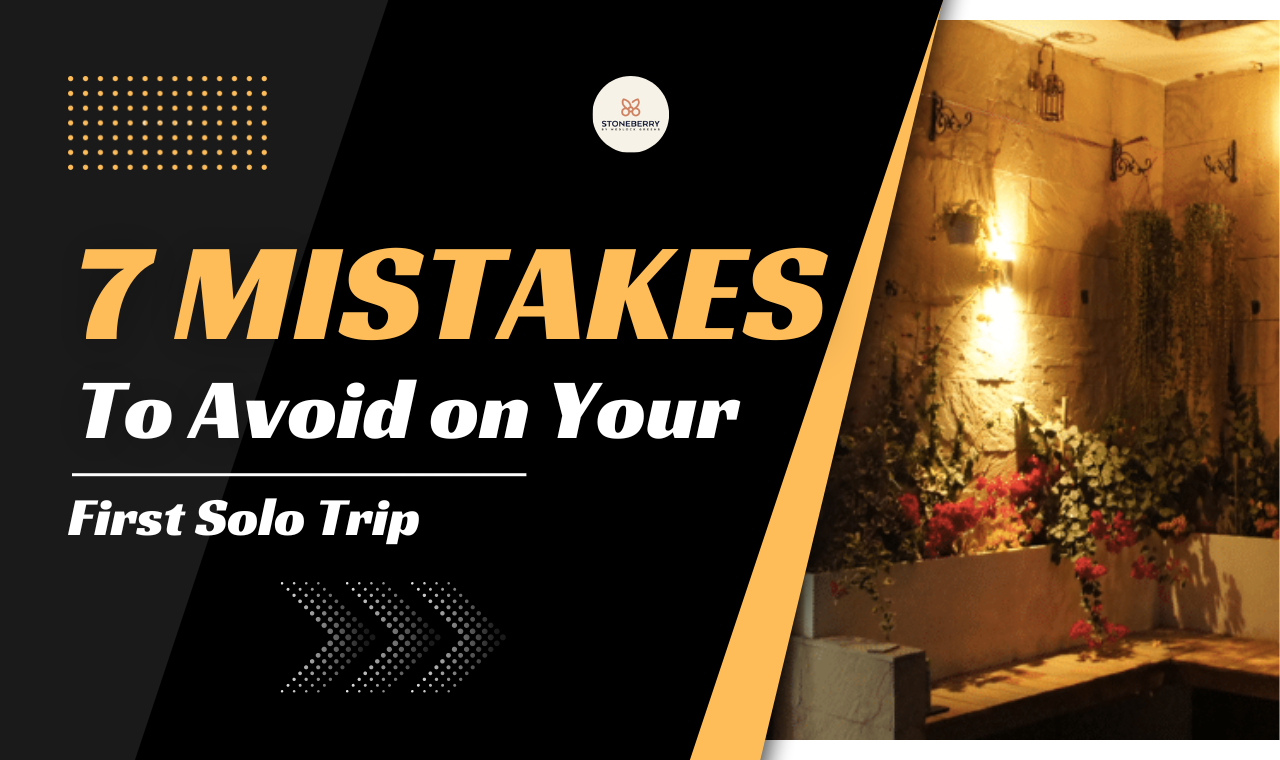 Going to your dream vacation destination without the snare of hundreds of other people is an ideal First Solo Trip travel objective for many. Solo traveling is very popular nowadays in India, and it boosts people's confidence. A solo trip is suitable for enjoying your own company and can help you raise your confidence. But when we travel solo, we can face various troubles, so we must consider a few things to avoid this. 
Mistakes usually negatively affect the trip of solo travellers. So, if you are a solo traveler and want to make your trip hassle free, you must consider a few things. This blog will discuss a few things which can help to avoid trouble during traveling. 
There are a few mistakes that we used to make while traveling. Those are discussed below.
7 mistakes should  avoid during First Solo Trip
1. Avoid Overpacking luggage 
Overpacking luggage is a significant and common problem for solo travellers. When you are enthralled by traveling on your own, you'll likely end up packing lots of things, including clothes. Packaging heavy luggage can create uncomfortable situations for the solo traveler and increases the chances of misplacing something. So before going for a trip, you need to pack only little things because it will help to keep the travel document safe. 
2. Never be short on cash
Budget problems and running out of cash are common problems in solo traveling. Improper budget plans can be responsible for creating necessary problems on the trip. The best action is to always keep some additional emergency cash on hand. You will likely be short of money If you're entirely dependent on the budget that you had in mind in planning your excursion.
3. Avoid Picking the Wrong Hotel
Most of the time, solo travelers need to choose the right hotel, which negatively affects solo travelers' trips. Selecting a proper hotel is the leading and essential thing for travelers. Although we know that money may be limited, you should invest in lodging. Adequate security in the hotel is the primary concern of travelers. So before choosing any hotel, you should check the security and amenities of the hotel.
4. Avoiding Requesting Assistance
We know that nowadays, it is tough to trust people in unknown places. But sometimes asking for help from the locals is good because they help us reach the proper destination. Wherever we visit, we can only know some details of the place. In order to understand the main things of the site, we need to know the primary and critical information about the area.
5. Avoid compromising safety
Maintaining safety during travel is the primary concern of Solo travelers because improper protection provides discomfort to visitors. There are certain risks for the solo traveler which may negatively affect the person's safety. So, if you plan a solo trip, you must ensure the safety aspects of the place and hotels.
6. Avoid making rigid plans
Making rigid plans can put you in danger and create difficulty in your trip. We already know that a solo trip is quite intimidating, and it requires time, money, and energy. So before going on a trip, you should make a proper tour plan to help you avoid uncertain problems. 
7. Avoid leaving without a backup plan
A proper backup plan is essential because it helps avoid serious travel problems. Always keep a trusted person updated on whereabouts. Knowing what you are doing and where you are going can be beneficial.
So, if you plan to travel solo in India, you should avoid these 7 mistakes. To neglect unnecessary problems, you must make a proper plan and enhance your knowledge about the place.
Conclusion
These types of mistakes mainly create unnecessary troubles for travellers. So, to make your trip memorable, which mistakes will you avoid? This blog concludes with the 7 mistakes which must be avoided while traveling. 
Let us know by a comment in the comment section.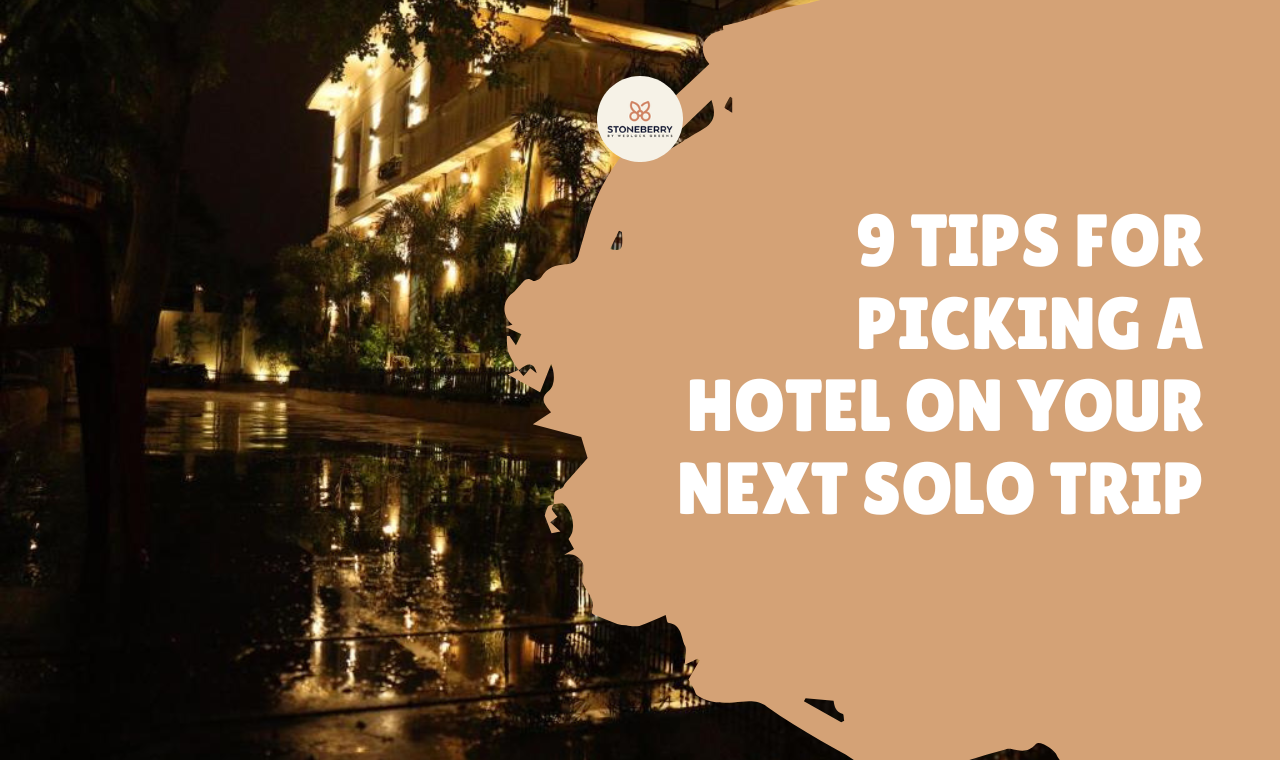 Introduction
Nowadays, traveling alone is the new normal for people. Lack of planning is a major source of Next Solo Trip annoyance. In order to avoid all of this and enjoy their own company, solo traveling is a good option. It helps people to connect with themselves and improve their communication skills. One of the most crucial components of solo travel is selecting the appropriate lodging for your stay. New city, new people, and new room.
This blog will discuss the 9 tips for selecting a hotel for the next solo trip. As a solo traveler, I have been faced with various problems and selecting a proper hotel is one of them. So,  If you are a solo traveler planning a trip, you should check out this blog to get a perfect hotel. 
9 tips for selecting a hotel for a Solo trip
These are a few tips before planning a trip, and you must consider these tips listed below.
1. Concerns Regarding Solo Travelers' Safety
Safety is a major concern for women solo travelers because the proper safety aspects are beneficial for making the trip smooth and memorable. The uncomfortable situation can create health risks for female solo travelers. So, when you book a hotel during your trip, you must ensure all the safety aspects of the hotel.
2. Make a list of essentials
Making a list of the essentials is important for considering a perfect hotel. The essentials are involved in the proper fitness area, restaurant, and hotel room services. Moreover, quality-based services of the hotels are also important criteria for selecting a hotel. 
3. Proper Research
Proper research is important to gain knowledge about the hotel. It is beneficial for understanding the pain points of the hotel and the strong points of the hotel. In order to understand the reputation of the hotel doing proper research is vital.
4. Reach out the social media friends
Reaching out to social media friends is a good option for solo travelers to get an idea about the hotel. People will get various types of information from their friends about the hotel. 
5. Share the location
Sharing the location is vital because traveling alone has many responsibilities and requires huge safety. Moreover, it helps to connect with friends and families.
6. Think about the conveniences available abroad
If you are traveling alone, you need to check the communication aspects. Find out if security precautions are in place, like deadbolts on room doors, if safety is a concern. Proper convenience is beneficial to visit the nearest destinations of tourist places. The inappropriate conveniences can create liability for solo travelers.  
7. Consider Emergency Planning
As a tourist, you have a right to know the hotel's emergency planning when required. When you phone, inquire about the hotel's safety plan. The front desk employees should explain the actions done right away.
8. Check the basic facilities of the hotel
There are different types of facilities in the hotel which are provided per the travelers' demand. The common facilities in the hotel are 24-hour room service, restaurant service, fitness center, Wifi facilities and swimming pool etc. these are common facilities that mainly attract solo travelers.
9. evaluate the surroundings
Good surroundings are important for making the trip memorable because positive support gives travelers good vibes. Before traveling, You should always be aware of the nearest accessible locations and how to return to your accommodation. The ideal approach to conduct this assessment is a brief tour of your hotel, which lowers your risk of getting into a sticky position.
So, these are the important 9 tips for picking up a hotel on the next solo trip. It will help to avoid uncomfortable situations during traveling.
Conclusion
This blog concludes with 9 important tips for booking hotels for the next solo trip. Choosing a proper hotel is a major concern for solo travelers because it will help them to enjoy their trip properly. I will consider these 9 tips for my next trip before choosing the hotel. Now it's your turn to share with us which top 5 tips you will consider before choosing a hotel for your next trip. You can share your points in the comment section. 
Introduction
Nowadays, solo trips are gaining popularity in India because people prefer to spend time with nature and themselves. Solo traveling is sometimes tough and challenging, but it is also quite interesting. For solo traveling, most people consider quiet and calm places where they can feel refreshed. 
This blog will discuss a few amazing places for solo traveling along with their packages. Before planning a trip, most people want to know the place and set the proper budget plan for the trip. If you are a solo traveler planning a trip to India, this blog will help you find a better place for your next trip. 
How popular is Solo traveling in India?
I cannot estimate the exact cost of individuals traveling alone in India. Still, you can find the best amazing places in India for solo traveling at an affordable price through this blog. Some people are fascinated with traveling, and some dream about traveling alone to various places in India. Sometimes it can help us to brush up our minds and help us to concentrate on our work. Solo traveling is important To understand the culture and values of the place. Nowadays, solo traveling is very trending in India, but if you are a woman, you need to be aware of the places to avoid obstacles while traveling.   In this regard, you must have an idea regarding budget, hotels and famous activities of the places. For your benefit, it is discussed the five amazing places in India which are safe for solo travelers. 
5 amazing Places in India for solo travelers
1. Rishikesh
Location: Uttarakhand 
Rishikesh is a famous and beautiful place in India, and this place is suitable for solo travelers. Various amazing activities are available such as yoga, meditation, bungee jumping, rock climbing, and river rafting, and you may also visit Triveni ghat, Neer Garh waterfall, Laxman jhula etc. If you prefer adventurous activities, you must consider this place for solo traveling. Moreover, this place will help you to connect with nature properly. 
Famous activities: Bungee jumping, river rafting, rock climbing, yoga and meditation. 
Packages: 8000/- per person for 3 days and 2 nights. 
2. Darjeeling
Location: West Bengal 
Darjeeling is a famous and attractive place in west Bengal and is also known as the queen of hills. Various types of amazing tourist spots are located in the middle of hills. The best part of this place is the view of the Khangchendzonga. Apart from that the ghoom monastery, zoological park, Tenzing park, batasia loop and tiger hill are also good for a solo trip. So, this place must be on your bucket list if you are a mountain person.
Famous activities: rock climbing, river rafting, sunrise view and trekking. 
Packages: 11,325/-  for 3days 2 nights.
3. Ladakh
Location: Kashmir 
Ladakh is a famous and adventurous tourist place in Kashmir. The climate of this place is the main attraction for the people. The incredible surroundings of this place mainly help the people make their trip memorable. Moreover, the breathtaking snow-clad mountains make the trip more adventurous. The Taking is the most amazing activity in this place, so if you want an adventurous solo trip in India, you must consider this place for amazing adventurous activities.
Famous activities: Trekking, bike riding 
Packages: 21,299/-  3 nights, 4 days packages. 
4. Gangtok
Location: Sikkim 
Gangtok is an amazing place for solo travelers, and the climate of this place is very pleasant. This place is also known for its peacefulness. Sikkim has a few amazing tourist spots which help make the trip beautiful for solo travelers. When planning a trip to Sikkim, you should consider famous places such as Pelling, Namchi etc.
Famous activities: trekking 
Packages: 9,850 4days 3 nights. 
5. Deoghar
Location: Jharkhand 
Deoghar is a famous tourist place in Jharkhand and is good for solo travelers. This place is surrounded by greenery. Tirkut Pahar is the most exciting tourist destination for travelers when they can enjoy adventurous wildlife. The Famous old Jyotirligonath temple is situated here so you can get a spiritual vibe here. Apart from that, some luxurious resorts in Jharkhand are also available at affordable prices. So if you are planning to explore some cultural places in India, you must consider this place. Because here you will see various types of historical tourist spots. 
Famous activities: Trekking, Ropeway and wildlife. 
Packages: 6000/- for 3 days and 2 nights. 
Conclusion
This blog concludes with 5 amazing places in India and their travel packages. These places are famous for their various activities and amazing tourist attractions. So if you are a solo traveler or planning a solo trip, you must check out this blog.
However, I will consider Rishikesh for my solo traveling because of its amazing activities. If you consider the same or other places, share it with us in the comments section.