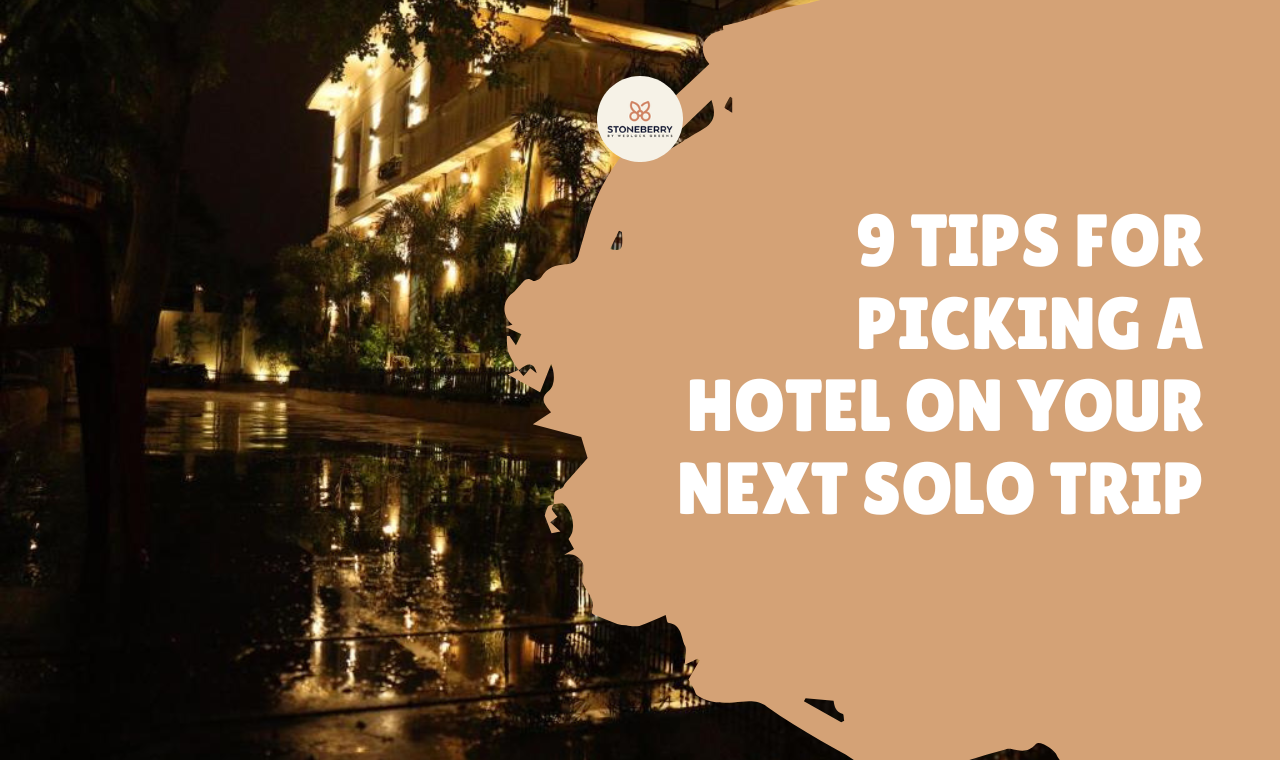 Introduction
Nowadays, traveling alone is the new normal for people. Lack of planning is a major source of Next Solo Trip annoyance. In order to avoid all of this and enjoy their own company, solo traveling is a good option. It helps people to connect with themselves and improve their communication skills. One of the most crucial components of solo travel is selecting the appropriate lodging for your stay. New city, new people, and new room.
This blog will discuss the 9 tips for selecting a hotel for the next solo trip. As a solo traveler, I have been faced with various problems and selecting a proper hotel is one of them. So,  If you are a solo traveler planning a trip, you should check out this blog to get a perfect hotel. 
9 tips for selecting a hotel for a Solo trip
These are a few tips before planning a trip, and you must consider these tips listed below.
1. Concerns Regarding Solo Travelers' Safety
Safety is a major concern for women solo travelers because the proper safety aspects are beneficial for making the trip smooth and memorable. The uncomfortable situation can create health risks for female solo travelers. So, when you book a hotel during your trip, you must ensure all the safety aspects of the hotel.
2. Make a list of essentials
Making a list of the essentials is important for considering a perfect hotel. The essentials are involved in the proper fitness area, restaurant, and hotel room services. Moreover, quality-based services of the hotels are also important criteria for selecting a hotel. 
3. Proper Research
Proper research is important to gain knowledge about the hotel. It is beneficial for understanding the pain points of the hotel and the strong points of the hotel. In order to understand the reputation of the hotel doing proper research is vital.
4. Reach out the social media friends
Reaching out to social media friends is a good option for solo travelers to get an idea about the hotel. People will get various types of information from their friends about the hotel. 
5. Share the location
Sharing the location is vital because traveling alone has many responsibilities and requires huge safety. Moreover, it helps to connect with friends and families.
6. Think about the conveniences available abroad
If you are traveling alone, you need to check the communication aspects. Find out if security precautions are in place, like deadbolts on room doors, if safety is a concern. Proper convenience is beneficial to visit the nearest destinations of tourist places. The inappropriate conveniences can create liability for solo travelers.  
7. Consider Emergency Planning
As a tourist, you have a right to know the hotel's emergency planning when required. When you phone, inquire about the hotel's safety plan. The front desk employees should explain the actions done right away.
8. Check the basic facilities of the hotel
There are different types of facilities in the hotel which are provided per the travelers' demand. The common facilities in the hotel are 24-hour room service, restaurant service, fitness center, Wifi facilities and swimming pool etc. these are common facilities that mainly attract solo travelers.
9. evaluate the surroundings
Good surroundings are important for making the trip memorable because positive support gives travelers good vibes. Before traveling, You should always be aware of the nearest accessible locations and how to return to your accommodation. The ideal approach to conduct this assessment is a brief tour of your hotel, which lowers your risk of getting into a sticky position.
So, these are the important 9 tips for picking up a hotel on the next solo trip. It will help to avoid uncomfortable situations during traveling.
Conclusion
This blog concludes with 9 important tips for booking hotels for the next solo trip. Choosing a proper hotel is a major concern for solo travelers because it will help them to enjoy their trip properly. I will consider these 9 tips for my next trip before choosing the hotel. Now it's your turn to share with us which top 5 tips you will consider before choosing a hotel for your next trip. You can share your points in the comment section.