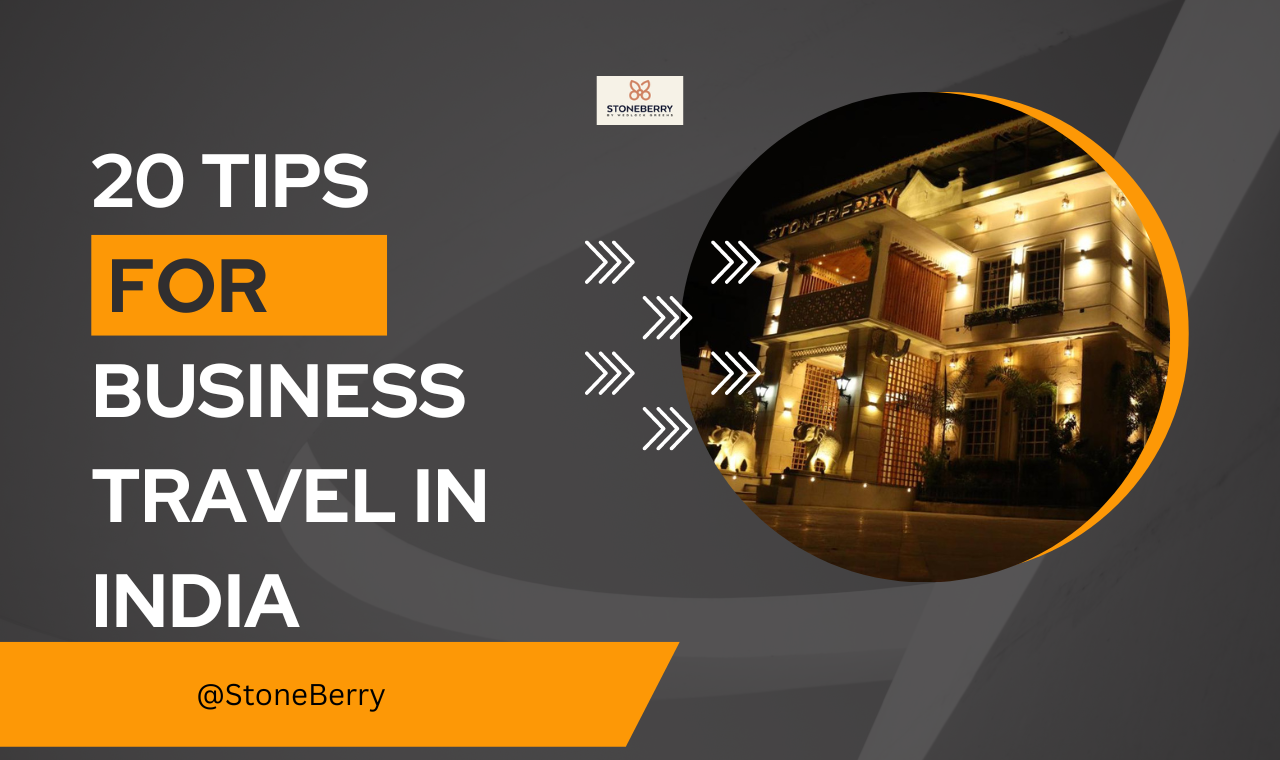 Introduction
India is not only a land of rich heritage and culture, but also it has emerged to be one of the most superior players in the business travel in India. The Indian economy provides all businesses with a suitable business environment for growth and finding opportunities at the local level. The main purpose of business travel is to boost the growth of the business and gain some knowledge about the business process. 
This blog will discuss the 20 major and important tips for business travel in India. It will help to understand the culture of Indian business and its benefits. So, if you are planning a business trip to India, the tips of this blog will surely help you. 
20 tips for business travellers
1. Align the requirements for your passport and visa
You must have a visa and passport if you are coming for a business trip to India from another country. There is a condition regarding the passport: the passport needs to be valid for at least 180 days after entering India and should have 2 blank pages. 
2. Greetings and welcome
According to Indian culture, when someone enters this country, the Indians say "Namaste" and do friendly verbal communication.
3. Bring a charged phone charger
A phone charger is important because it can keep the phone active and make you available. A properly charged-up phone will help you to connect with your colleagues and check all the official documents of your business.
4. Language of the business
Proper business language is important because it can help you communicate with your colleagues. Improper language can create some offensive issues, so to avoid such things, you should have knowledge of the business language.
5. Schedule your business meetings
Arrive the day or the night before your meetings to give yourself time to get a good night's sleep and become familiar with the area, and give you access to relaxing in airport lounges, including other benefits.
6. Analyze the business relationship
Indians believe in ethics and trust for developing business relationships. Introduce yourself and learn more about your potential companion through small talk. It can be construed as disrespectful to go right into the business matter. 
7. Maintain hydration with water
Keeping yourself hydrated is crucial for avoiding unnecessary problems such as dehydration. But only drink water from the sealed bottles. Otherwise, you may fall sick.
8. Check the culture of the business in India
Different countries have different types of business cultures. However, India has a multilingual, multi-ethnic and multiracial society, so it has different cultures. 
9. Study the company
To get some knowledge about the company, you must research it because it can help you understand the organization's business mission and vision.
10. Select a private taxi or car
Having a private taxi or car in place will help you to reach various destinations easily for your business.
11. Choose a 4 or 5-star hotel to stay
To get better services, you must consider the luxurious hotel because it will provide you with standard services. Moreover, you will also get a good number of facilities as per your demand. 
12. Pay bills via cards
Paying the bills via cards is easier because it will clear all the dues daily.
13. Know the condition of the climate
Having an idea of the climate is important to carry the clothes for the trip. Moreover, it will also help you to take precautions against climate change.
14. Enjoy sightseeing
Manage the time to explore the beautiful culture of India. You should book your room in a convenient location to reach the various places easily. 
15. Hire a translocator
Hiring a translocator is important for communicating with the people in India. If you have language issues, then you must hire a good translocator.
16. Traffic regulation
When crossing streets as a pedestrian, proceed with caution and keep an eye out for all the transport.
17. Do not be doubtful
When you come or visit India, put your doubts about the country behind you. As we know, Indians are renowned for their outstanding hospitality, and they will try to provide you with the best facilities for making your trip memorable. 
18. Insurance for health and travel
It would be best if you asked your medical insurance provider about the existence of your insurance during your travel.
19. Money exchange, ATMs, and credit card payments
For any changes, you may always check online, at the airport, or in a currency exchange office.
20. Security and Emergencies
Most of the states in India considered 108 phone numbers for the emergency p[upose. So when you travel to India, you should know the importance of this phone number.
So, these are the 20 important tips for business travel in India. This will help you to make your trip memorable and amazing. 
Conclusion
This blog concludes with 20 important tips for business travellers in India. This will help the travellers maintain all the aspects of travel and avoid liabilities. So if you are planning to travel to India, you must consider these tips for making a memorable trip.